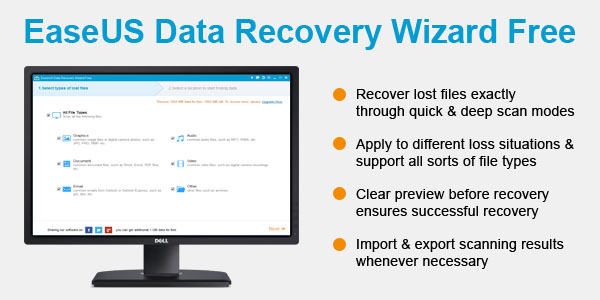 Data Recovery, the process of restoring your lost (corrupted or deleted) data, is becoming more common today than ever before. From businessmen to normal teenagers; we all have important data that we cannot afford to lose. It might be a pile of research work that a student has spent days on, just so that he can pass through the final year of his boring high school. Or it can be a pile of files that a businessman has to take care of in all scenarios. Moreover, business files are never thrown away and gone are the days when files used to put away in the basement for any future use. Everything is saved on the PC's or laptops.
So what if, one day, you turn on your PC and it doesn't respond? What if your laptop suddenly deletes some files on its own? Or they just have gone "missing"? Your heart will certainly skip beats and all that data, that the tiny machine holds, will start revolving around in your head. THIS is exactly where you will need data recovery software. There are various ones out there in the market that promise to deliver you the best service in name of free data recovery software. However, there is one that is prevalent in the tech market at the moment.
EaseUS Data Recovery Wizard Free software is all that you need these days to bring your important data back to you. And above all, this is free data recovery software! So kudos to all those people who have been in an utter need of a free data recovery software; nothing beats this one.
So basically, EaseUS Data Recovery Wizard Free software is great as it promises to recover your data. It recovers all types of data; from deleted to lost and formatted data! Name it, and this software has the ability to bring all of it back to you. It not only works for PC or laptops. You can use this software even in a removable device to recover any of your lost data for free.
How does this free data recovery software works? It is really easy to use which makes it an all-time favorite for most users. It guides you step by step, through the entire process until your data is recovered. You simply have to launch this software and allow it to scan your device. You also get guidelines regarding how you have to launch it and how it starts to scan your PC or laptop. Once it starts to scan; your task is done. You just have to sit back and wait for the data to be recovered. It is as simple as that
EaseUS Data Recovery Wizard Free software is consumer friendly and quite promising in whatever it has to offer you. If you are looking for free data recovery software; then you can definitely rely on this one! Use it for yourself and see how incredibly and effective it works for you!
Disclosure: This is a sponsored post. Regardless, all opinions are honest and my own. You can click here to read our full disclaimer.